Kleeneze offers a work from home franchise type business system, which means you can learn and work the system with proven, relatively predictable results. This gives you the benefits of having your own business such as more control of when you work, who you work with and how much you earn – without the risk of a large capital outlay, renting premises, hiring staff and holding stock.
There are three key disciplines within Kleeneze, which are all required to build a significant business and income. They are:
1. Retailing
2. Sponsoring (recruiting and supporting new distributors)
3. Coaching & Leadership
Retailing is stage one – you move products by leaving the catalogues with people and collecting orders a couple of days later. The catalogues actually take away the 'selling' part of the business, which overcomes one of the main hurdles in Network Marketing.
Sponsoring is stage two – this simply means promoting the opportunity and sharing and demonstrating the benefits of the business to interested prospects. When someone joins the company, your role is then to support them through stage one – retailing.
Coaching & Leadership is stage three – this means coaching key people within your team through sponsoring (stage two) and providing overall group leadership.
This three stage Kleeneze business system is summarised in the diagram below: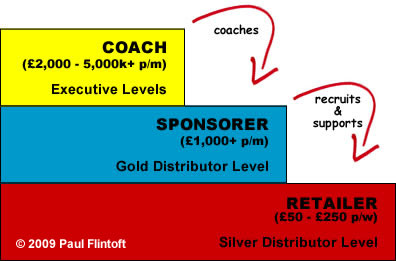 These three stages are broken down into a series is simple, sequential steps that a new distributor works through at their own pace.
For example, if a new distributor wants to earn an extra £50 – £250 per week from retailing, they will only work through the steps in stage one – retailing.
If a distributor wants to earn a passive income of £2,000 – £5,000+ per month, then they will work through all the steps in stages one, two and three.
All truly great self-sustaining businesses are built on two foundations: a proven system and good people. We have the system – are you the type of person who can make a success out of a business like Kleeneze?